W33 or W322 ?

W33haa was caught using -refresh command in EEL (European Elite league) , games in this league are hosted in private lobby ,usually by a spectator but in this match he hosted the lobby himself and enabled cheats without telling anyone.
Video of him cheating ->
http://www.twitch.tv/latyos12/b/609714810
His reaction after he was caught cheating ->
http://imgur.com/a/VmDHF
Loda's tweet about this incident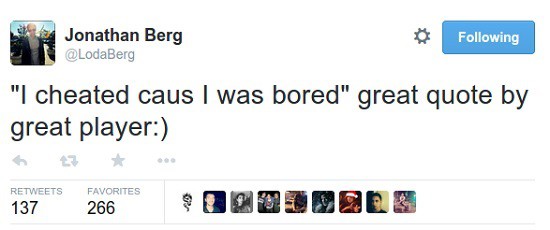 Source : Joindota
Last Updated 3 years ago by Dexter
Yea, the relatively unknown people today are dying to get to TI by one way or the other. I am sure they feel that they can play better than any1 who has represented a TI and just jelly cuz they are not part of a tier1 team who would get invited. So they pull stunts like these.
Last Updated 3 years ago by URN-Bhai
Comments
Everyone seems to be making an uproar because of his reaction more than the actual cheating. He gets called out for doing something wrong and then behaves like he's being victimized.
Guess he didn't realise he was this important when he decided to do it :P
Last Updated 3 years ago by ClouDx